Are you looking for the best Thai learning resources? This blog post will help you whether you are a beginner or an intermediate learner. We'll talk about textbooks, online courses, dictionaries, and other resources for learning Thai quickly and effectively. Let's get this party started!
How long does it take to learn Thai?
It would take approximately two and a half years to learn Thai if studied 25 hours per week. To be fluent in the language, you must have a firm grasp on the grammar and vocabulary. This amount of time is required to be able to hold a conversation with native speakers and understand them.
Resources Available for Learning Thai
Anyone looking to learn a new language should consider Thai. It is a lovely and exotic language spoken by over 38 million people. There are numerous resources available for those interested in learning this language at all levels, from beginner to advanced. Online forums, language learning websites, and even social media platforms are excellent places to find Thai teachers, lessons, texts, and other resources. Anyone, with a little searching and effort, can begin learning Thai with ease!
Courses & Apps:
ThaiPod101 is an audio course for people who want to learn Thai. It provides a wide range of lessons for students of all levels, from beginner to advanced. It is also very affordable, making it an excellent choice for those on a tight budget.
Glossika Thai is an excellent program for improving one's Thai language skills. The "mass sentence method" is a novel approach to learning Thai in context that is ideal for upper-beginner to intermediate students. Learners' Thai speaking and comprehension abilities will quickly improve with daily practice on Glossika.
The Mondly Thai course is an excellent way to get started and learn the fundamentals of Thai. The lessons are all short and simple to understand, and the content is appropriate for complete beginners. One of the best features of this course is that you can choose which lessons to complete. Other apps force you to follow the lesson order, but Mondly gives you a lot of leeway. This makes it an excellent choice if you only want to learn a few basic phrases or if you want to concentrate on a specific topic.
Thai-speaking Tools:
preply is a great way to learn a language because you can start speaking right away. You can find an affordable Thai tutor for one-on-one lessons, which will help you improve your language skills quickly.
Italki for finding a private Thai teacher. You can choose how often you want to meet, and what type of lessons you want to have. It also has a review section where you can get corrections from a native Thai speaker. This is great for practice and improving your language skills.
AmazingTalker are perfect for anyone who wants to learn the language quickly and effectively. Their tutors are professional and experienced, and can help students of all levels, from beginner to advanced. With them, you can improve your listening, reading, speaking, pronunciation, writing, vocabulary, and grammar skills. You can also choose a program that fits your specific needs, like business or travel Thai. Whether you're preparing for a test or want to improve your conversational skills, AmazingTalker Thai tutors are there to help.
Reading and Writing for Beginners: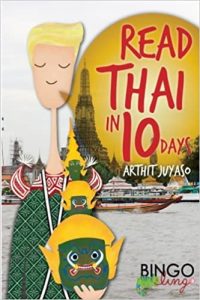 If you're looking to quickly learn the Thai alphabet, Arthit Juyaso's book "Read Thai in 10 Days" is an excellent resource. The book covers all aspects of the language, from learning the basics of pronunciation to more advanced concepts. With clear and concise explanations, it is a great tool for anyone looking to gain a basic understanding of the Thai language.
The Thai for Beginners book is a great way to learn the basics of the language. The 10 lessons teach you how to read, write, speak and listen in Thai. The book also includes an index of 1000 English to Thai words.
Teach Yourself Thai covers the basics of the language, such as the five tones, and provides dialogues so you can practice your conversational skills. With audio accompaniment, you can learn at your own pace and get a better understanding of how Thai is actually spoken.
Listening and Pronunciation Resources:
Thai Audio Conversations The website provides audio recordings of Thai conversations between a Thai teacher and a student, with accompanying transcripts in English, Latin alphabet transliteration and Thai script. This can be extremely useful for foreigners who are studying the Thai language, as they can hear the correct pronunciation and see how the words are written in both scripts.
Introducing Genki Thai: A Fun and Easy Way to Learn Thai It covers greetings, colors, body parts, directions, and more. Thai is a tonal language, so pronunciation is key to speaking it correctly. There are no reading or writing Thai required to play Genki Thai, making it an easy way for beginners to get started with the language.
Best Websites:
Forvo is an excellent resource for anyone studying Thai, as it allows users to hear the pronunciation of words. This can be incredibly helpful for beginners, as they can hear how the word should sound and then practice saying it themselves. The website is easy to use and has a large            database of words, making it a great tool for learning Thai.
Thai Language The lessons are interesting, and the huge online dictionary is extremely useful. Additionally, the forum allows learners to communicate with each other and share tips and advice. The audio files are also a great way to improve your listening skills, and the fun photos provide some light relief while learning. This website is suitable for Thai language learners of all levels.
The Best Thai Dictionary
Longdo Dict is the best dictionary for Thai, and it's easy to see why. The app provides users with a comprehensive list of words and definitions, as well as translations into English and other languages. Additionally, the app offers helpful features like audio pronunciations and example sentences. Whether you're a beginner or an advanced learner, it is the perfect tool for improving your Thai vocabulary.
Thai2English is an excellent tool for finding the meaning of long sentences. It breaks the sentence up into individual words, providing both the meaning and pronunciation for each one. This makes it easy to understand how to say a sentence correctly, as well as what it means.
Start Speaking Thai Now: The Ultimate Guide to Learning Thai
Conversation Countdown: A Thai Language Course for Quick Results is one of the most popular courses offered on Thai language learning websites, due to its promise of quick results. The course begins with a basic introduction to the Thai alphabet and pronunciation, before moving on to more in-depth lessons that focus on conversational phrases. By the end of the seven-day course, learners are expected to be able to hold a basic conversation in Thai.
Conclusion
There are lots of great resources out there for learning Thai, and we've listed some of the best ones here. Some people learn best by taking classes or attending language schools, while others prefer to use apps, books, or other materials at their own pace. Whatever your preferred method is, there's sure to be a resource on this list that will work well for you. So what are you waiting for? Start learning Thai today! Preply.com is one of the best websites to find a tutor who can help you learn Thai quickly and effectively.