Do you want to learn Italian? Are you looking for a comprehensive guide that will teach you everything you need to know? You've come to the right place! In this blog post, we will discuss the best way to learn Italian. We'll talk about the available different methods, and we'll give you some tips on how to choose the right one for you. So whether you're a beginner or an experienced learner, read on for some helpful advice!
How to Learn Italian Online
There are many ways to learn Italian online, including free and paid resources. The key to learning any language is practice and consistency. To make sure you keep up the momentum, try using a variety of resources and setting yourself small goals.
Free online app – Duolingo
Duolingo is a great way for people to start learning Italian. It is convenient to be able to learn anywhere, as you can have your phone with you. However, the app could be improved by giving an overview of how the classes and lessons are structured. Additionally, the phrasing in some of the exercises could be improved.
Online Courses
When it comes to learning a new language, there are a few different options to choose from. You can attend in-person classes, watch videos or listen to audio recordings, or use an online course. If you want to learn Italian quickly, an online course is a great option. You can work around your schedule, learning during commute times or while exercising. Most courses come with an app that covers pronunciation, vocabulary recognition, and grammar.
Italian language courses are available in a variety of formats. These programs are very structured and come with apps and lots of resources. If you're looking for a cheaper course without all the whistles and bells then a search on Udemy (a global marketplace for learning and instruction) where there are over 100 Italian language courses aimed at different learning styles and requirements for as little as $15.
Listen to podcasts
Podcasts are great for supplementing a more structured learning approach, and this is how I made the most progress learning Italian. My favorite podcast is called Coffee Break Italian, and it has lessons that last around 20 minutes. This podcast is comprehensive and goes over a variety of topics, from grammar to culture. Listening to this podcast regularly has helped me improve my listening comprehension, vocabulary, and grammar skills.
Watch YouTube Videos
YouTube can be a great resource for learning Italian. In addition to the sounds and pronunciation, it's important to watch how Italians use their mouths and hands when speaking. Gestures are an important part of communicating in Italian, so it's essential to become familiar with them.
Use Italian language books
Some people learn best by watching and observing, while others prefer to read to absorb knowledge. This is the case with learning a new language. Some people find that they can learn better by using an app or online resources, while others find that a book is a more structured way to learn. There are hundreds of Italian language books available to help those who want to learn the language. Using a book may also be a great way to supplement your studies if you mainly want an app or online resources that are not so structured.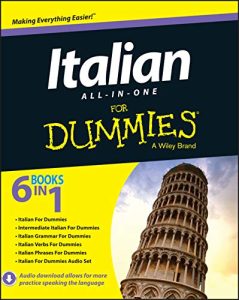 The top-rated book on Amazon, "Italian for Dummies," provides the basics in Italian for situations like asking for directions and ordering food. The book is filled with helpful phonetic spellings to make pronunciation a breeze, making it a great resource for beginners. Whether you're planning a trip to Italy or just want to be able to converse with your Italian friends, this book is a must-have.
Easy Italian Phrasebook: 770 Italian Phrases
The content of this book is extremely useful for anyone looking to travel to a foreign country. The phrases are broken down into categories, so you can easily find what you need. Whether you're trying to ask for directions or order a meal, this book has you covered.
Learn Italian FAST in Just 8 Hours!
If you're looking to make the most out of your trip to Italy, then this book is for you. It provides all the essentials you need to know about Italian culture, history, food, and attractions. Whether you're short on time or not, this book will help you navigate your way around one of the most beautiful countries in the world.
Use flashcards
When it comes to learning a language, memory and recall are essential tools. Flash cards can be a great way to help with this, as they provide a structured way of practicing and recalling vocabulary. Many online courses and apps include digital flashcards as part of their program. This helps you to practice your Italian vocabulary on the go, and in a way that is tailored specifically to your needs.
The content of the business card-sized cards is designed to be suitable for beginner and intermediate users. The cards are organized by category so that users can easily find the information they need. The cards provide a range of information, from basic tips to more advanced techniques.
SparkNotes Italian study cards
The content provided gives a basic introduction to the Italian language, with a focus on vocabulary words and phrases. It is a great starting point for those looking to learn this beautiful language. With a little practice, you will be able to communicate in Italian like a pro!
Face-to-face course
Learning Italian can be done in a variety of ways, one of which is attending a language school in your city or town. However, this is not the only way to learn the language. You could also take an online course, which is more flexible than attending a face-to-face class and may be more affordable. To find the best face-to-face courses where you live, look for your local Italian cultural institute.
Go to Italy!
The best way to learn Italian is to be immersed in the culture and to converse with people who speak the language. You will quickly pick up keywords and phrases by ordering food at a restaurant, buying train tickets, or asking for directions. It is very satisfying to be able to communicate in a language that is not your native tongue, and speaking Italian will improve your fluency. Meeting and conversing with people in Italian is the absolute best way to learn, as it will generate automatic recall of words and phrases.
Immersion-based language schools in Italy can help students achieve fluency more quickly than in traditional classroom settings. These schools offer language tuition in the morning, with excursions in the afternoon. This allows students to use the language in a real-world setting, while also getting to explore different parts of the country.
Choosing the Right Italian Language School
There are hundreds of schools to choose from, so it is important to know your criteria and ask lots of questions before making a decision. Some things to consider include the location of the school, the type of program it offers, and the level of instruction. Make sure you find a school that fits your needs and provides you with the opportunity to improve your Italian skills.
Conclusion
So, those are our top tips for the best way to learn Italian! Hopefully, you found this post helpful in your journey to becoming fluent. With experienced native speakers from all over Italy, you can be sure to find the perfect teacher for your level and learning goals.