Does everyone know that video games can be fun and educational, but what about using them to learn a new language? The idea of using games as a tool for education is not new, but many people are just now discovering that video games are an excellent way to learn a language.
Here are some of the best Spanish games to learn the Spanish language:
1) Rockalingua
When it comes to the Spanish language games, It's a fantastic game that involves matching colors to Spanish words to win. With Rockalingua, you not only learn vocabulary words but also how they are spelled and pronounced. What's more? The game also features pop quizzes to reinforce what you have learned along the way.
2) Buzz Spanish
is another great Spanish game that will help you with your vocabulary and pronunciation of words. This game can be used both on your computer or on your phone or tablet, which makes it perfect for studying on the go.
3) Word Drop
This fun game has you popping bubbles that have Spanish words in them as they fall from the top of the screen. The faster you pop them, the more points you get. It features 5 different modes, including a mode where you can take out just one letter to work on your vocabulary skills.
4) Word Spanish
is a simple game where you choose words to use to fill in the blanks on the screen. It can help with learning specific words or just be used as a way to increase your regular vocabulary.
5) Online Spanish Pronunciation Game
This fun game tests both your vocabulary and your pronunciation skills. The goal is to match the correct word with its correct meaning and sound out the words as you go along. You can use this game for all kinds of vocabulary, including place names, food items, clothing items, and much more.
6) Spellbound
is a fun spelling game that will keep you entertained while helping you learn new vocabulary words. As you play, you will be prompted with a word and four possible answers. You can use hints if you get stuck along the way.
7) Word Jumble
This is a great game for learning Spanish because it presents its words in puzzle format and has three different levels of difficulty to choose from. Here, you will be given jumbled words that you must unscramble in order to reach your goal.
8) Spanish Read and Jump Game
This game is sure to help keep your kids entertained while teaching them how to read Spanish at the same time. The game itself is very easy to use, which makes it perfect for children to play on their own.
9) Picture Flashcards
This is a great game for learning Spanish vocabulary because it allows you to review the words and phrases that you have already studied in a fun way. All you need is your computer or device with a camera and internet access, and then you can start using this resource.
10) Spanish Language Video Lessons
This is a fantastic resource for learning Spanish because it features both teachers and cultural experts from Spain. The videos are all accompanied by subtitles in either English or Spanish, which makes them easy to follow. So what are you waiting for?
11) Paperama
It's a puzzle game where you have to fold paper into different shapes in order to complete the level. The object of this game is to create origami shapes by folding a square sheet of paper. As you advance through the levels, they will get more challenging. You have to make sure that your folded shape matches the one shown on the screen in order to move on to the next level.
12) Digital Dialects
Here's another superb game for learning Spanish because it features different artists who teach you to sing along with them. Here, you will learn how to properly pronounce the words that are shown on the screen without worrying about making mistakes. The songs are all catchy and fun to sing along with so there's no pressure to perform well.
13) Word Toss
Now it's time to learn some English vocabulary words with a fun game that will teach you over one thousand words. Here, you must place the correct word into each bubble before they reach the top of the screen. As you advance through the levels, things start to get more challenging as the bubbles move faster and faster.
14) Spanish In Flow
If you want to learn Spanish, but don't know where to start, here's a fun and simple game that can help teach you how. All you have to do is make sure the water flows through all of the obstacles by solving various puzzles. Here, you'll get introduced to the most common words in the language and will practice listening comprehension and critical thinking skills.
15) Baloono
Here's another language learning game that will help you figure out how to pronounce Spanish words and phrases properly. In Baloono, you must make sure the balloons land on the right spot in order to succeed at this fun game. You can take your time with each level or try to beat your best score.
Conclusion
Therefore, these are the games to learn Spanish. Playing them is a fun and easy way to learn Spanish vocabulary. And, In order to hold command while reading and writing in Spanish, you should check out the article on background information above for more details. What's great about all of these games is that they feature various types of learning activities such as puzzles and games and learning Spanish doesn't feel like a chore. Now that you know the top 15 games for learning Spanish, all you have to do is pick one and start playing it as soon as possible.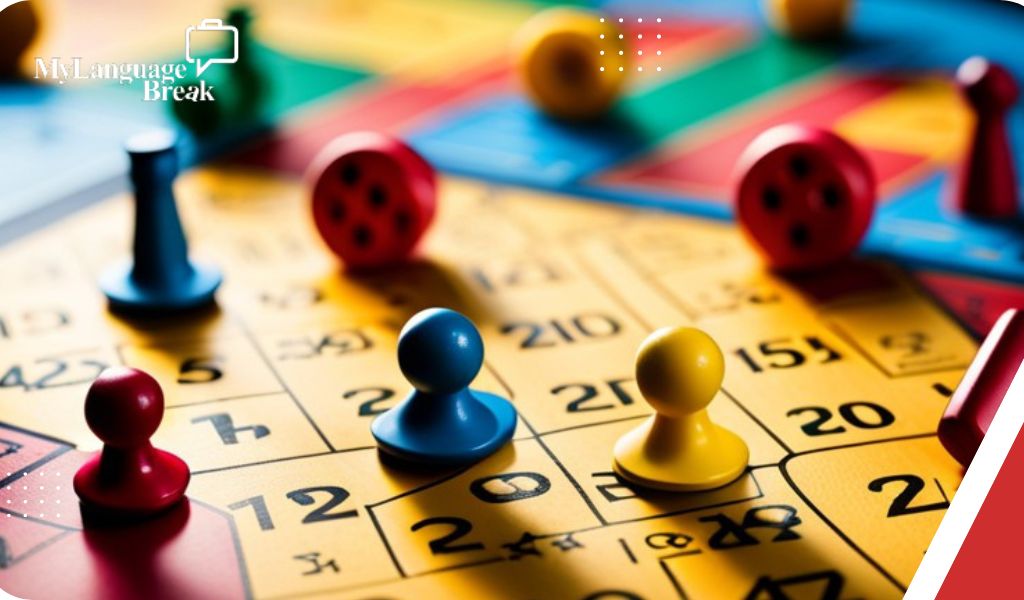 Quick Tips
You need not buy an expensive coursebook or attend expensive tuition lessons just to learn Spanish. There are lots of free online resources that you can use to learn Spanish at your own pace, in your own time, and from the comfort of your home.
What are some fun ways to study vocabulary?
There are many creative ways to study new words in a language. Vocabulary can be learned through games, songs, movies, speaking with friends, writing the words down repeatedly by hand, teaching others what you've learned, or even creating artwork.
Does playing games in Spanish help you learn?
Playing interactive games is a great way to strengthen your vocabulary and test your fluency. The more you play Spanish games, the more words and phrases you'll memorize.
How do children learn how to speak?
Like adults, children use various ways to practice speaking like: listening, singing, speaking with others, or reading stories in that language.
How do I study Spanish vocabulary?
It is a great idea to learn some words related to a certain topic that interests you, such as football or animals. For example, if you love horses and ponies, learning some basic vocabulary about them can be very helpful for use in everyday life. In order to make the task easier, try to study related words in the same category all at once.
Where can I access Spanish Learning games?
There are many free online Spanish learning games available. Some websites recommend specific ones while others allow you to search based on the type of game or level of difficulty.
How to Maximize the Time of Learning Spanish Language?
In order to make studying more entertaining, try coming up with a personalized challenge every week for yourself and keep track of how well you do on it. For example, you can set a weekly goal to learn 50 new words or practice an hour every day. It is also important to come back and review your accomplishments at the end of each week to see how well you've done on your goals.